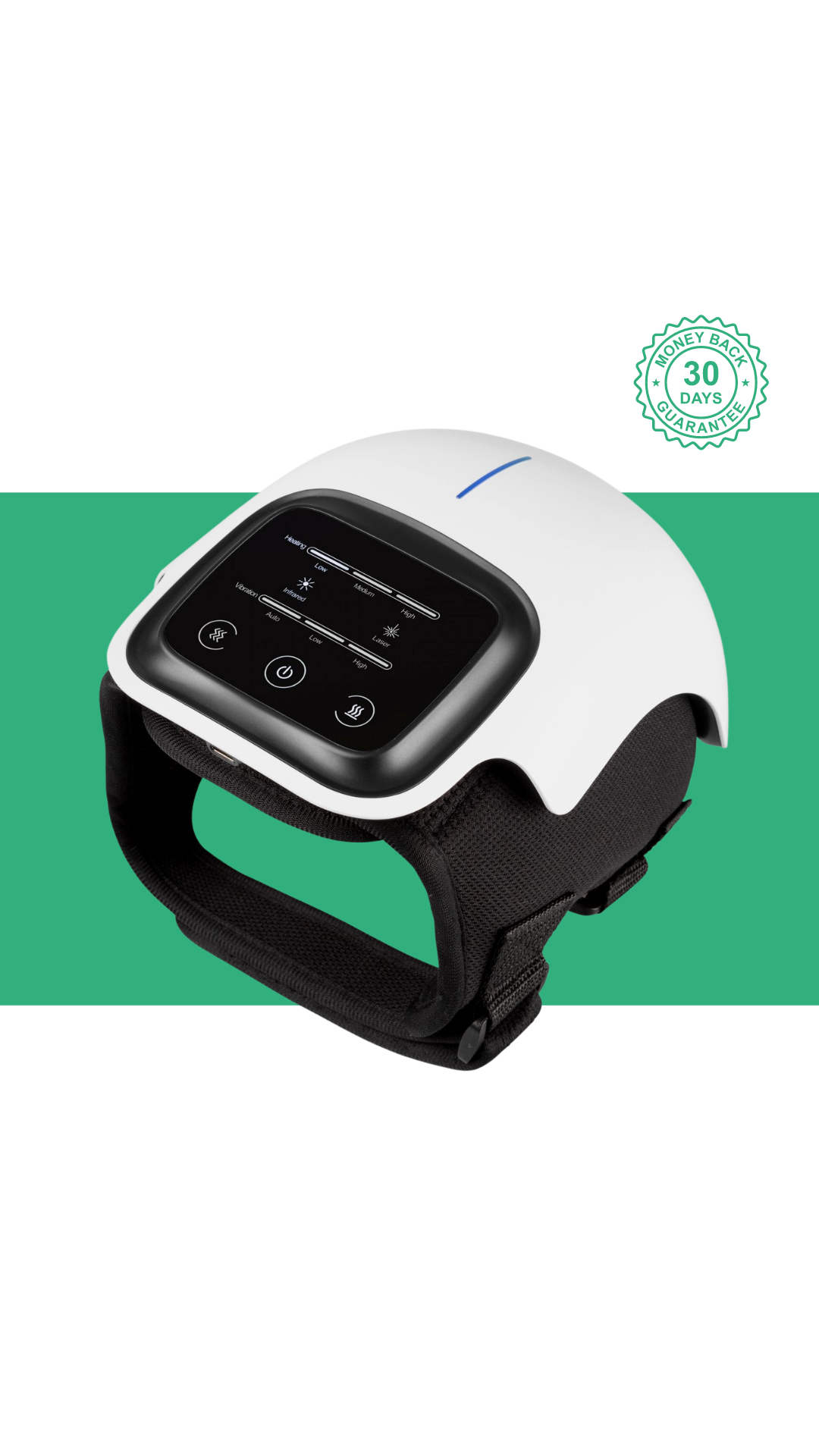 Eliminate Joint Pain From The Comfort Of Your Home
Prevent and treat knee pain with the KneadRelief™. Our innovative massager that uses a unique 3 technique system to prevent and treat discomfort.
✅ Infrared & Laser Therapy
✅ Heat Therapy
✅ Vibration Therapy
Portable and User-friendly
KneadRelief™ is crafted for ultimate convenience. Its battery-powered, portable, and compact design allows you to bring it along wherever life takes you - be it traveling, working, or relaxing at home. The user-friendly interface enables effortless usage and customization of intensity levels
Buy Now
Ergonomic Design
Our ergonomic design is carefully crafted to conform to the natural shape of the knee, ensuring a comfortable and effective massage experience. The adjustable straps and secure fit cater to various knee sizes, allowing users to enjoy targeted pain relief and enhanced relaxation with ease.
Buy Now
Read Below
Highlights

🎯Targeted Pain Relief: Alleviate knee pain caused by arthritis, injury, or daily wear and tear, allowing you to enjoy your favorite activities without limitation.

🏃‍♂️Improved Mobility: Experience increased flexibility and range of motion in your knees, making daily tasks and physical activities easier and more enjoyable.

🌡️Soothing Warmth: Enjoy therapeutic heat that provides additional comfort and relaxation during your massage sessions.

🔋On-the-Go Convenience: Cordless and lightweight design allows for easy transport and use, ensuring you can enjoy a relaxing massage anytime, anywhere.

🌟Easy to Use: User-friendly touch screen control panel, detailed user manual, and separate Quick Start Guide make operating KneadRelief a breeze, allowing you to start massaging and relieving pain in no time.

⚙️ Customizable Intensity: Tailor the heat and vibration levels to your personal preferences, ensuring a comfortable and effective massage experience that suits your unique needs.
Convenience

Experience the convenience of at-home therapy, with a wireless design that eliminates cords and offers easy portability.

Say goodbye to traveling for appointments and waiting in busy clinics. Enjoy targeted pain relief and healing on your terms, in the comfort of your own space, anytime and anywhere you desire.
Specifications

KneadRelief is designed for effortless use, crafted with premium materials, and built to serve as your long-lasting recovery companion for optimal knee health and comfort.

LCD touch panel: Easy to configure and use.
Battery life: Up to 3 hours of continuous use
Charging time: 2-3 hours
Power supply: 5V/2A (cable & plug included)
Weight: 1.1 pounds (500 grams)
Dimensions: 8.2 x 2.7 x 5.5 inches (21 x 7 x 14 cm)
Motor: 3600 pulses per minute
Modes: 3 different intensity levels
Strap: Velcro secured and 14 inches of travel
Fabric: High quality, padded, breathable mesh.
Sizing

Straps Length: 14 inches (approximately 35cm)

Please ensure that the strap length is suitable for your needs before purchasing.

For added convenience, we offer Velcro extensions that easily attach to the existing straps, providing a customizable and comfortable fit for a wider range of sizes. This sizing guide and the available extensions ensure that KneadRelief can accommodate your unique needs, allowing you to enjoy its therapeutic benefits with ease.
Our Pain Free Promise

Warranty & Returns:

30-Day Pain-Free Guarantee: We are confident in the effectiveness of KneadRelief and offer a 30-day pain-free guarantee. If you don't experience pain relief within 30 days of receiving the product, you may return it for a full refund.

1-Year Warranty: KneadRelief comes with a 1-year warranty from the delivery date, covering any defects in materials or workmanship. In the event of any issues, we will repair or replace your device to ensure your satisfaction.

Our commitment to quality and customer satisfaction ensures that you can confidently invest in KneadRelief, knowing that we stand behind our product and support your journey towards better knee health.